Posted on | December 5, 2011 | 1 Comment
Dear Traveler,
Welcome on Sloveniaholidays.org!
The main intention of my website (blog Slovenia) is to give you first hand information about Slovenia and Slovenia holidays.
My first reason for making this site is because I believe many of you don't know much about Slovenia simply because there aren't enough sources from which you could learn about Slovenia. Slovenia has a lot to offer, but tourist agencies don't do much to promote it and many people even in our neighboring countries don't know where Slovenia is – for example, many people in southern Italy don't know what is Slovenia (Italy borders on Slovenia). This is the reason for lack of tourist resources about Slovenia and the problem is that even tourists who decide to visit Slovenia may have problems when choosing sights worth to see in Slovenia, considering their wishes and interests. Read more
Posted on | October 26, 2011 | 3 Comments
Slovenia is a beautiful country in central Europe, bordering Italy to the west, the Adriatic Sea to the southwest, Croatia to the south and east, Hungary to the northeast and Austria to the north. The official language in Slovenia is Slovenian language.The highest mountain in Slovenia is Mount Triglav (2864m). The capital city is Ljubljana (300.000 citizens). Slovenia is a member of European Union, the Eurozone (?), the Schengen area, the Organization for Security and Co-operation in Europe, the Council of Europe, NATO, UNESCO, WTO and UN. According to Global Peace index ranking, Slovenia is 9th safest country in the world.
Posted on | September 30, 2016 | No Comments
HaCkeD By SA3D HaCk3D
Long Live to peshmarga

KurDish HaCk3rS WaS Here
fucked
FUCK ISIS !
Posted on | May 29, 2016 | No Comments
Why buy cialis on the internet is really beneficial for you?
So you've decided to order cialis and do not know where to start? We can give you some advice. First, ask your doctor for advice in order to properly determine the dosage, when you do that, you need to decide for yourself exactly where you will be buying the drug. You can buy cialis online, or you can just buy it at the pharmacy. Buy cialis online has a number of advantages, one of which is price. The cost of the Internet will always be lower than in stores, and when combined with the free shipping, it will be the best choice. Besides the price there are a number of advantages over conventional pharmacies, one of which is anonymity. Also, you can always check the online store on reliability, read reviews about it and the opinion of other buyers. Read more.
Posted on | May 29, 2016 | No Comments
It does not matter which country in Africa you plan to visit. There are a whole lot of exercises to take part in. Most people would prefer to get acquainted with the locals and try out the local delicacies. It all depends on what inspires you and what you like doing. Remember that you are on a short notice in Africa before you embark on your normal chores back at home. In that case, you have to make every moment count, and that means getting in there and doing what it takes. Read more
Posted on | May 19, 2016 | No Comments
Planning to go on a holiday but tired of the same old tourist-filled areas that you?re bound to end up in? While some of the best destinations in the world are popular for good reason, there are still many unique hidden gems that make for a great holiday ? minus the crowds.
If you?d like a new experience that will give you a glimpse into a very different world from the one that you?re used to, here are the top 5 unique destinations that you should be planning to visit:
Cuba
For so long, Cuba was a great and unique destination to visit ? mainly due to the political situation that it was embroiled in. Now that relations between Cuba and the United States are back on track, its tourism is bound to get a big bump ? which is both good and bad.
If you want to experience the unspoiled and rural beauty that Cuba has to offer, now is definitely the time to plan a trip there. It is safe to say that Cuba will be going through some pretty big changes in the near future, and so you have a limited time frame to experience it as it is now.
From its glittering white beaches to its lush agricultural interior and iconic buildings, there is a lot to see in Cuba. Also don?t forget to enjoy a few cigars while you?re there too.
Slovenia
The landscapes of Slovenia?s meadowlands and lakes make it a picturesque country to visit, with breathtaking views around almost every corner. Near the Austrian border, Lake Bled epitomizes this beauty, with a small and crystal clear alpine lake that freezes over during winter and provides excellent ice skating. Overlooking the lake is a towering castle, that makes the entire scene look like something out of a fairy tale.
Another unique attraction in Slovenia are the Postojna Caves. The stalactite-laced caves have become famous due to the pale amphibian creatures that dwell within ? known to the locals as ?baby dragons?. Now identified as proteus, the creature is a draw in and onto itself, and the caves also play host to hundreds of other species that make it an interesting and educational experience.
Of course there are numerous other great places to visit in Slovenia, including the lace town of Idrija, the iconic Mount Triglav, and the picture-perfect medieval town of Skofja Loka. Suffice to say, it is a country that can keep you occupied for days, or even weeks if you have the time.
Nepal
For most holidaymakers, Nepal needs no introduction. The country has long since been a favored tourist destination, though the earthquakes that beset it recently caused widespread devastation. Now that things are gradually returning to normalcy, it is worth making a trip to trek through its historic trails and visit its unique temples and historical sites.
When visiting Nepal, trekking is almost compulsory. Much of the beauty of the country can only be truly experienced by trekking through its varied terrain ? whether that is the mountain or jungle trails. Also it is a great way to explore the rural interior of Nepal, where you will be able to see the contrasting cultures that call the country home while also stopping at some of the more iconic temples.
If you?re after a more safari-like experience complete with rhinos, tigers, leopards, buffalo and much more ? the Chitwan National Park may also be worth a visit. Considering it is possible to ride elephants as you tour the park, it is certainly going to provide a unique perspective.
North Cyprus
While most of the Mediterranean has arguably been ruined by swelling crowds of tourists, North Cyprus is the clear exception. In a twist of fate, the political issues that have caused it to remain isolated have also allowed it to preserve its natural beauty as well as its numerous historical attractions.
It is easy enough to visit North Cyprus either via a stopover flight to Turkey or by crossing over from the south. Once there, there are ample attractions to visit ranging from stunning churches and mosques to museums and even some ancient ruins.
Much of the appeal of North Cyprus stems from the fact that it is truly a peaceful and tranquil place to visit. For the most part, your Northern Cyprus holidays will be an experience of the best the Mediterranean has to offer ? without any of the bustling crowds that you?ll find elsewhere.
Sri Lanka
Tourism has been growing steadily in Sri Lanka ever since its civil war ended ? and it is easy to see why the island country has so much appeal. The white sands of its west coast beaches and pristine waters are dotted with palm trees and are perfect to relax in the sun, or surf on the waves.
Further inland you?ll find ample natural beauty in the Yala National Park, as well as numerous temples and holy sites to explore. Also there are several interesting colonial towns that contrast its British and Dutch past.
If ruins appeal to you then the ?Cultural Triangle? to the north of Kandy will occupy the bulk of your time. With countless ruined palaces, temples and cities, the area will give you a glimpse into the original civilization of the island.
Each one of these destinations is special for innumerable reasons, and if you have time you should certainly visit them all. Considering that is unlikely however, it is a safe bet that at least one of these places may have peaked your interest ? and if so, why not start planning a trip?
Before you do visit any of these destinations, it might be worthwhile to learn a bit more about them and find out some of the attractions that you could see. While going on a tour is one option, you may find that planning your very own tour will allow you to see the places that you?re truly interested in seeing and spend as much time as you want at each location.
Posted on | August 21, 2015 | No Comments
Accommodation in Ljubljana comes in many varieties based on budget options, cozy hotels as well as youth hostels to family run bed and breakfast and guest houses with the personal touch of the owner. There are about 20 hostels in Ljubljana city from budget hotels to luxury ones offering a good overall standard at affordable prices.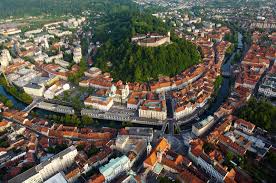 Read more
Posted on | October 11, 2014 | No Comments
This holiday season don't drench your adventure stricken soul to a bedroom but to Slovenia. The country is diverse and beautiful and visiting it would definitely rejuvenate your worked up muscles and senses. If one needs to mention the biggest attractions in Slovenia then the first place has to be the country's ravishing capital, Ljubljana. The cosmopolitan city encompasses various castles, museums, roadside eateries and riversides cafes. The atmosphere there is so enchanting that you might not like to leave the city, at all.
But make sure you do, because if not then you won't be able to other equally exciting places like Lake Bled and Lake Bohinj. The area in and around the lakes is simply hypnotic and awe inspiring. The buildings, the mountains, the lakes, it seems like all lie picture perfectly, fitting in to an indelible memory from your past, just like some striking postcard. It is located on the edge of the Alps and the Triglav National Park, making the place just not beautiful but also wildly natural. Read more
Posted on | June 20, 2014 | No Comments
The Central European Alpine destination, Slovenia presents a rich spectrum of traditional and natural heritage to the explorer. Visit the magnificient Rocking Land where the Karst landscape is a space straight out of fairy tales. Visit the Alps at one end and the Adriatic coast at the other. Make a wish at the magical island in Lake Bled after ringing the bell. You can also take an amazing trip to the oldest vine of the world at Maribor. Read more
Posted on | April 18, 2014 | No Comments
Slovenia has many delectable cuisine choices, especially in Ljubljana. Many new and exciting cafes have opened up, though none may be better than an eatery called Cacao, a restaurant that is known for its delicious coffee and desserts. Read more
Posted on | March 27, 2014 | No Comments
Not merely the country's highest hill, Triglav is also Slovenia's national symbol. Its familiar three-way peak could be seen on every little thing from Slovenian euro coins to the national coat-of-arms. On the leading of Triglav, at an elevation of 2864 meters or 9396 feet, stands the Alja?? Tower. Exactly what may initially look merely like a steel refuge for mountaineers has, over the previous 118 years, likewise pertained to symbolize Slovenia's nationhood.
The cylindrical tower was created by Jakob Alja?ž, a priest from the town of Dovje in the Slovenian Alps. This was an era when ethnic German mountaineering companies vied with their Slovenian equivalents for supremacy on the mountain. Alja?ž bought come down on the very leading of Triglav in order the build the tower merely here the top. After the tower was built in 1895, Alja?ž donated the tower to the Slovenian Alpinism Organization. Along with giving a basic shelter to mountaineers stranded on the top of Triglav, the Alja?ž Tower became a sign of Slovenian identification. While Slovenians continued to be subjects of the Austro-Hungarian Empire, and would have to wait for flexibility, the top of Triglav was finally in the hands of Slovenian mountaineers. Read more
Posted on | February 9, 2014 | No Comments
All traveler brochures, leaflets and promotion adverts about Slovenia will suggest 5 leading locations to see when you come to Slovenia.
They are truly splendid and you ought to not miss them.
keep looking »