Slovenia has 46 kilometers of its own coast. It borders on Italian coast in the north and on Croatian coast in the south. Despite the fact that the coast it self is rather small it has quite many towns and interesting spots, worth mentioning and visiting on your Slovenia holidays. I will describe seven of them (of course most important and tourist interesting ones), sorted from north to south.
1.) Ankaran
Ankaran is a village only few meters away from Italian border. It is interesting because of very fine sand in the sea (you don?t have to walk on rocks when you are going in the water). Water isn?t as high as in other parts of Slovenian coast, which makes this one more family friendly. Besides all other sorts of accommodation available (apartments, hotel), Ankaran has its own camp as well (and the cheapest boat launching ramp for nautical enthusiast). The only problem in Ankaran, as in all other parts of Slovenian coast, is parking. Owing to many one day tourists arriving by car, it is quite hard to get a free parking space, especially at weekends.
2.) Koper
Koper is the largest coastal town and sixth largest town in Slovenia. It is well known for the largest Slovenian port called ?Luka Koper?. Koper has interesting history as well ? the consequences are many well maintained medieval buildings. It has quite many hotels, apartments, casinos and other tourist facilities, but in my opinion Koper isn?t number one tourist spot in Slovenia, because it only has one beach and even this one is located beside the busy road. If you decide to visit Koper, I suggest taking a walk in the center, visit Prešeren square (?Prešernov trg?) and Tito square (?Titov trg?), maybe some churches, for example Church on Tito square from 12th century. You can go shopping in one of supermarkets in Koper if you are interested in that (I?m not, but I know many people who want to shop everywhere).
3.) Izola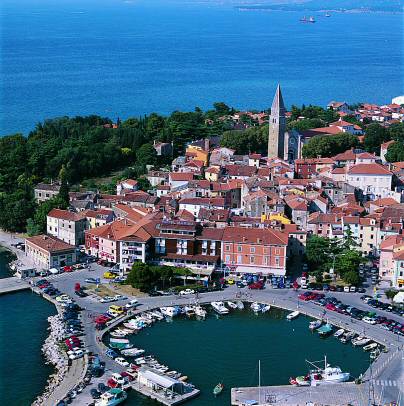 The name Izola derives from Italian word ?isola?, which means ?an island?. The center of Izola was an island which was connected with the land in 19th century.
Izola is a famous fishing town. The town also has lits own marina, which was renewed recently. There are many restaurants on waterfront, offering fishes and other seafood.
Izola has five major hotels and two camps. It also has two more known beaches ? one near the town center (it?s possible to park in the parking place near shipyard for free and then walk to the beach), and the other one, more famous called ?Simonov zaliv? (Simon?s bay). It is possible to park there as well, but you will have to pay for it (5?/day).
Other four spots from Slovenia coast will be described in the following article.
Posts from the same category: