As you may already know, Slovenia has more than 85.000 caves and many more are discovered every year. The possibility of discovering stalactites, stalagmites, flow stones, halls, natural windows and many more absorbing underground sights are the reason for Slovenia caves being more and more popular among tourists.
Two most known Slovenian cave systems are described in the articles about Postojna cave and Škocjan caves. In this article I will concentrate on three other, ?hidden? caves in Slovenia that are interesting from different perspectives.
Županova jama is located near beautiful foot paths.
Županova jama (in English The mayor?s cave) was discovered in 1926 by the mayor of nearby village. It?s only about 20km away from Ljubljana, near Grosuplje (Dolenjska region) and is interesting because of seven halls with mighty stalactites, connected together in the system of tunnels.
Županova jama is interesting for people who want to see Slovenia countryside besides Slovenia caves as well, owing to walking paths nearby which are part of European foot path E6.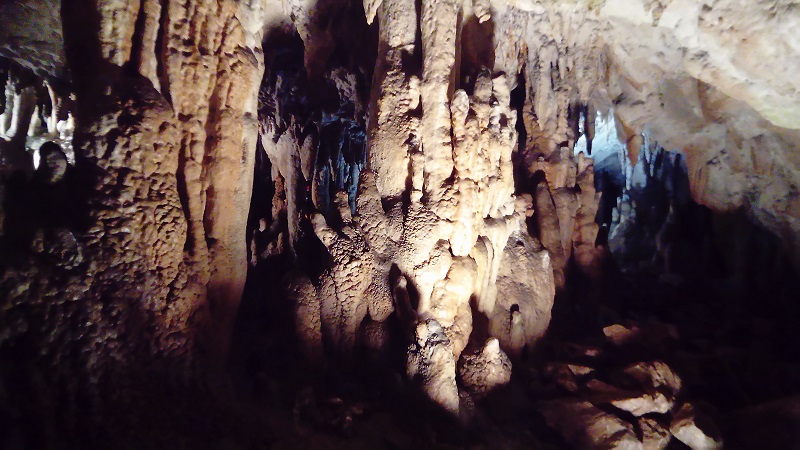 The cave is opened from May to the end of September at Saturdays, Sundays and holidays. The tour starts at 3.00 P.M. (15.00). In March, April, October and November, ca
ve is opened only on Sundays and holidays, at 3.00 P.M. More information is available on zupanovajama.si (unfortunately only in Slovenian language, but you can see some beautiful pictures of the cave) and on the telephone number +386 41 407 705.
Rotovnikova jama has an entrance through cafe
Rotovnikova jama (Rotovnik cave) was discovered by accident in 1978 by Jurij Rotovnik, a local man in a village Skorno near Šoštanj in Štajerska region. Rotovnik, with a plan for new house, started digging on his yard and discovered a cave. He arranged the cave for tourist visits, but he didn?t want to stop building his house. He built a house right at the cave entrance. So, the entrance in the cave is only possible from the cafe in Rotovnik?s house. This facts makes Rotovniko cave one of more intresting Slovenia caves.
Despite the fact that Rotovnikova jama is a smaller cave, it has beautiful stalactites and stalagmites. The specialty of Rotovnikova jama are ?aragonite formations? or ?aragonite urchins?, formations from mineral aragonite (CaCO3), which is present only in two other caves in Slovenia.
Skorno pri Šoštanju (Skorno near Šoštanj) is easily accessible from highway Ljubljana ? Maribor (Via Michelin recommended route). When you arrive at Skorno, the cave can be found with the help of the signs on the road (Skorno isn?t a big village so I think finding the cave will be an easy job).
Kostanjeviška jama near the most beautiful old town in Slovenia
Kostanjeviška jama (Kostanjevica cave) is located in Dolenjska region near the old town Kostanjevica na Krki. The cave is about 2 km long, about 300 m of the cave is opened for tourists. Paths in the cave are appropriate for children and seniors. The cave is interesting because we can see different images in the walls with a little imagination (saber, bear, ?). Guided tour lasts approximately 40 minutes.
Kostanjeviška jama is opened for tourist from 15th April to 31st October on Saturdays, Sundays and holidays at 10.00 AM (10.00), 12.00, 2.00 AM (14.00), 4.00 PM (16.00) and 6.00 PM (18.00). In July and August cave is opened every day. Phone number of the contact person is +386 (0)41 297 001.
The cave isn?t the only interesting sight in Kostanjevica na Krki. The town Kostanjevica is in my opinion one of the most beautiful old towns in Slovenia. With an old town center on the artificial island on the river Krka, Kostanjevica offers their visitors a relaxed and peaceful environment with unspoilt nature.
Posts from the same category: