Severna (Northern) Primorska starts at Nova Gorica. This is divided and yet connected community of Gorizia and Nova Gorica, which used to have strong Slovenian minority on the Italian side, but after the World War I, most of them moved from there, as Gorizia was destroyed in war. Until recently, the only notable thing in Nova Gorica was the casino Hit, but recently, also the theater Primorsko dramsko gledališče and a private university ? Politehnika are becoming important. There are several notable castles in the surrounding countryside. Kostanjevica, Franciscan monastery with a vaulted tomb of Bourbons, is located on one of the hills, not far away from Kromberk, another castle.
A castle, Dobovo, also stands in Brda. It?s not only a wine cellar, but also an artistic museum (Zoran Mušič). In Brda, we should also mention Medana, the birthplace of a poet Alojz Gradnik, and pilgrimage mountain Sveta gora on the Italian side.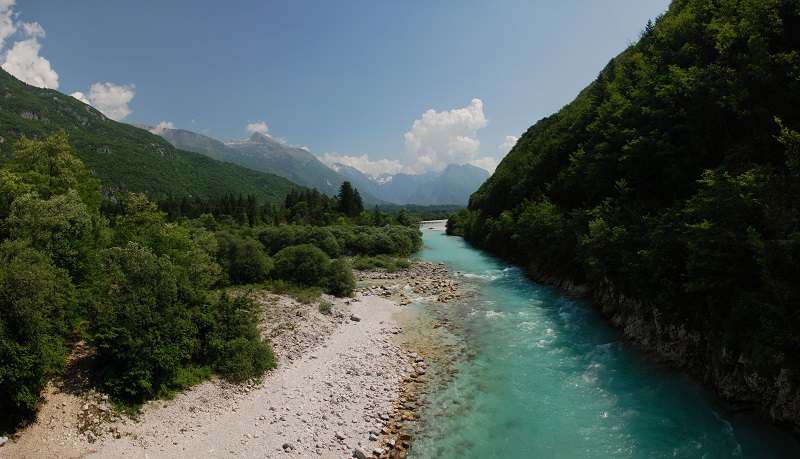 Up along the Soča River, past Anhovo (with a cement factory) and Kanal (the birthplace of an alpinist Valentin Stanič) we come to the town Tolmin, a center of upper Posočje. An extensive area, called Tolminsko, was named after it. This land will not forget three bloody years of the First World War, as well as it won?t forget its poet, Simon Gregorčič, who foretold the sanguinary events on the Soča River in the poem Soči. Most na Soči, with a confluence of Soča and Idrijca, is the birthplace of a writer Pregelj, while Vrsno in the vicinity is the birthplace of a poet Simon Gregorčič. Kobarid (Caporetto), where the Italian army suffered the worst defeat in the World War I, is not far away. Today, Kobarid is known for its magnificent tomb, dedicated to the Italian soldiers, who died in the war, and memorial museum, which was proclaimed as the European museum of the year several years ago.
Mighty mountain Krn boasts above Kobarid, while there is even higher mountain Kanin over Bovec, with the highest ski slopes in Slovenia. Nearby Koritnica, there is the last bigger settlement in Slovenia, Log pod Mangartom. We can find out from the name, which mountain is above it, even though Jalovec is not far away. Over the mountain pass Predel, we come to the Italian side again, but we can still find Slovenian people, as well as we can find them in the northern Kanalska dolina valley. If we continue our way along the Soča river through the valley of Trenta, we pass the monument of a mountaineer and a writer, Julius Kugy, and arrive to the mountain pass Vršič (1618 m) and thus on the division of waters that flow to the Adriatic Sea and to the Black Sea. This is also a border between Primorska and Gorenjska.
Posts from the same category: