The first record of viticulture in Slovenia is from 5th century BC. The viticulture has been present through the Middle Age, Austro-Hungarian Empire and also through Yugoslavia (despite the fact that Slovenia had a strong competition in the low cost wines from southern countries of Yugoslavia, especially Macedonia). The viticulture is still present in Slovenia and is getting more and more important for Slovenian economy and interesting for tourists as well.

Wine regions in Slovenia
Slovenia has three smaller wine regions and not one big region because of the landscape variety and consequently because of the variety of microclimates (more information about climate available in the article Weather in Slovenia). Those regions are: Podravje, Posavje and Primorska.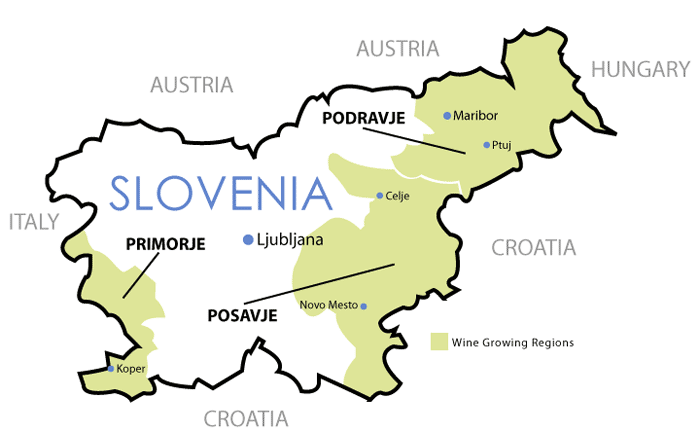 Wine regions in Slovenia
Podravje is the largest wine region in Slovenia. The name for this wine region comes from river Drava, which flows through this area. It is divided into seven districts (Radgona-Kapela, Ljutomer-Ormož, Maribor, Haloze, Prekmurje, Srednje Slovenske Gorice and Šmarje-Virštanj). Almost all wine produced in Podravje region is white wine. Maribor is famous for the oldest vine, which is still producing grapes and wine, in the world. The vine was planted four centuries ago.
Posavje was named after the river Sava, flowing through the area. It is subdivided into three districts (Bela Krajina, Dolenjska, Bizeljsko-Brežice), the most famous one is Dolenjska, Slovenian symbol of wine production and viticulture. Dolenjska is famous for production of Cviček, Slovenian national red wine, made from mixture of white and red wine grape. Cviček contains less alcohol than other wines and is a little bit sourer.
Primorska is the most famous Slovenian wine producing region. It has four districts (Goriška Brda, Koper, Kras, Vipava). Primorska region produces many famous wine varieties of Merlot, Chardonnay, Sauvignon Blanc, Cabernet Sauvignon, Cabernet franc, Pinot Gris, Pinot noir, Rebula, Refosco, Laški rizling, Rumeni muškat and many other ones.
Because Slovenia is a country with many hills (with an exception of Prekmurje), almost all wine yards are situated along slopes or hillsides in terraced rows. Access for machines is very limited and Slovenian wine yards are therefore processed manually in many cases.
From tourist perspective Wine routes can be an interesting experience. There are twenty wine routes in Slovenia and all have Wine cellars on the way, where you can stop and taste wine. You can try some Slovenian national food as well.
If you aren?t interested in wine and you don?t want to visit Wine routes and Wine cellars you may want to order Slovenian wine when eating in restaurants on Slovenia holidays.
Posts from the same category: