Most of Slovenian people immediately associate Gorenjska with Triglav, a majestic mountain with three heads. For us, Triglav is much higher than in reality. Something like that must have influenced Julius Kugy, who wrote these words: Triglav ist kein Berg, Triglav ist ein Reich. This magnificent mountain with 2864 meters of height above sea level and unique geographical position has big symbolic and also uniting meaning for Slovenians. It is also featured in Slovenian coat of arms.
Protected area of Triglav National Park (TNP) extends from the valley of the Soča River to the Gornjesavska dolina valley, and from Bled to Bohinj. Total area of the park is more than 800 square kilometers (the central area has 550 square kilometers). Triglav is not the only high mountain in the park. It is accompanied with several other high peaks: Škrlatica ? 2740 m, Mangrt ? 2679 m, Jalovec ? 2645 m, Razor ? 2601 m, and so on. TNP is also a source of many streams and rivers. Between ski jumping center Planica and skiing resort Kranjska Gora, there?s a spring of Sava Dolinka River, official spring of the river Sava. Other clear river, Savica, springs in the valley of the seven lakes of Triglav
It flows through the Lake Bohinj, where it is renamed to Sava Bohinjka. Both, Sava Dolinka and Sava Bohinjka, join at the town of Radovljica, and then continue to flow onwards as Sava. We should also mention three valleys, which start nearby Mojstrana ? Vrata, Kot and Krma ? and they end deep between the mountains. The most visited is Vrata valley with Aljažev dom resort at the end. This valley is also a starting point for expeditions to northern Triglav?s rock wall, the third highest wall in Europe, with 1200 meters of height.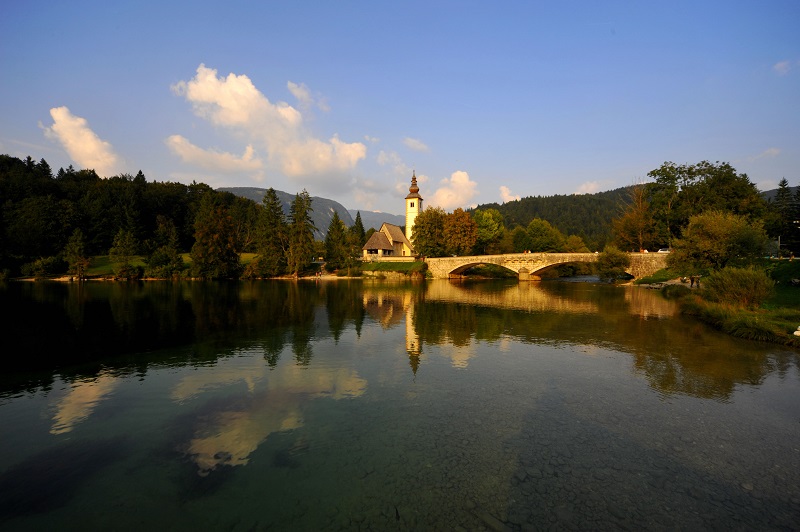 Not far away from Mojstrana, a stream Radovna flows parallel with Sava Dolinka and splits wooded plateaus Mežakla and Pokljuka. Then it turns east, past the Lake Bled and through the Vintgar gorge into the river Sava. We don?t have to waste words for what Bled with the island in the middle of the lake and the castle means to Slovene people. Most of them would probably list Bled as the most beautiful place in Slovenia. But not only because of natural attractions, but also because of the greatest Slovenian poet, France Prešeren, who admired Bled as a child from his own home in Vrba. Vrba is today a starting point of the last part of the highway, which leads past the largest city in Zgornjesavska dolina valley, towards the Karavanke tunnel and Austria. Iron industry is still present in Jesenice, except that chimneys don?t emit clouds of dense red smoke anymore.
Gorenjska – Kranj, Kamnik, Gorenjska – Radovljica, Škofja Loka, Gorenjska – Triglav, Bled, Bohinj
Related articles
Posts from the same category: