Eastern of the road Kranj? Mengeš we pass the airport of Jože Pučnik, and if we turn towards Kamniške planine at Moste near Komenda, we soon arrive at Kamnik, which was already mentioned before. Famous intellectual Peter Pavel Glavar lived and worked in Komenda and Moste, and also Plečnik left his mark there. We should mention the church of St. Anne in Tunjice, with an energy center nearby. There is poorly maintained castle Stari grad, proudly strutting over Kamnik, and above it, under Velika planina, distinguished Sveti Primož with two chuches, worth visiting.
Mali grad castle in the center of the town, Zaprice castle, Sandikar?s collection and many churches are better maintained than Stari grad. Franciscan church also has a monastery with an extensive library. Also monastery Mekinje in direction of Kamniška Bistrica is well known. Kamnik is a starting point of roads through Tuhinjska dolina valley and Črna valley, across the pass Črnivec (902 m) to Styria. We can also access Styria by highway past Domžale through Črni graben to Trojane (Atrans), or through Moravška dolina valley across the pass Kandrše. This is near geometric center of Slovenia, near Vače (vaška situla), but this is not a part of Gorenjska anymore, but Zasavje.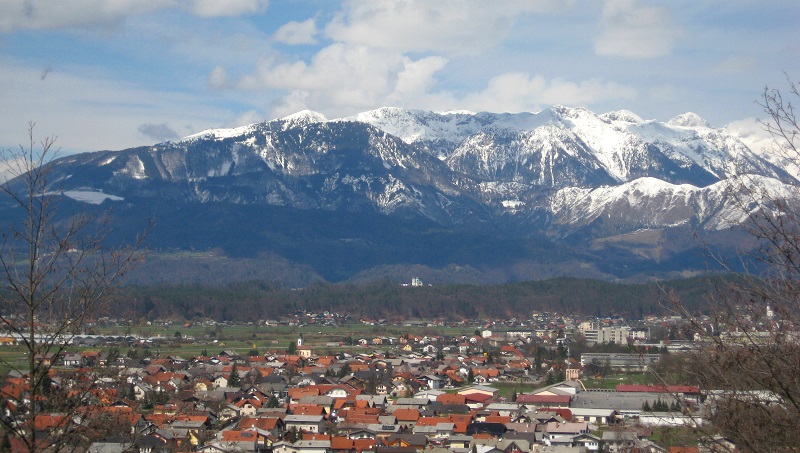 Description of Gorenjska is not perfect without the description of its capital city, Kranj. Without it, Gorenjska is almost meaningless. Kranj is an old settlement, which is proven over and over again with archeological excavations. Roman Carnium was renamed to Chreina by the bishops of Brixen. The name comes from the times of Celts and Illyrians, who liked to name places with the word ?kar? (rock, stone). In the middle ages, Kranj was the center of the lower Karnija, headquarters of arch parish and border county. Urban and spiritual center of Kranj is Glavni trg square with town hall Mestna hiša, church of St. Cantianius from 15th century and other respectable civic buildings. Near is also the church of the Rosary, former center of the Protestants, with Plečnik?s arcades. The castle Khiselstein used to be headquarters of border count, but today there are various cultural institutions and one of the main stages of cultural events in Kranj. Another such center is the theater Prešernovo gledališče with a statue of the poet and professional group of actors. Kranj got a gymnasium already in the times of Napoleon (1810).
France Prešeren, the greatest Slovenian poet, finally decayed and eventually died in Kranj. That?s why sometimes Kranj is called the city of Prešeren. The hose, where he worked as a lawyer in the last years of his life, is nicely renovated and maintained.
Kranj is also an important industrial, commercial and banking center with strong rubber (Sava) and electronic industry (Iskratel), Merkur and Gorenjska banka. Today, it has more than 40000 inhabitants.
Posts from the same category: