Yesterday evening I was walking in Ljubljana and I got an idea. Ljubljana is fully decorated since the beginning of December and I?m sure you want to know how it looks like. Some of you may be visiting Ljubljana in December, maybe even for Christmas or New Year. That encouraged me to take some pictures while I was walking and present those pictures to you.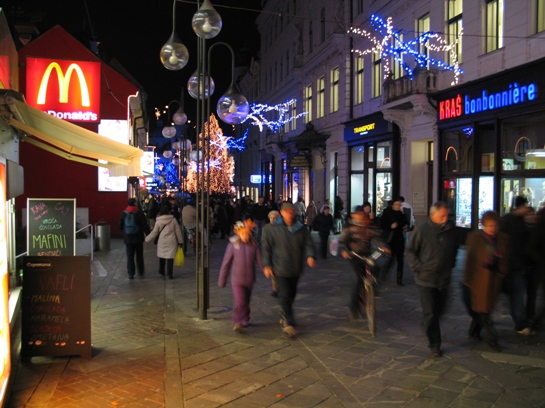 I started my ?trip? in the Čopova Street ? the main street in the center of Ljubljana. As you can see there are a lot of local people doing holiday errands, but I have also noticed quite many tourists taking pictures of Ljubljana (like me). Then I was walking along Čopova Street and came on the Prešeren square.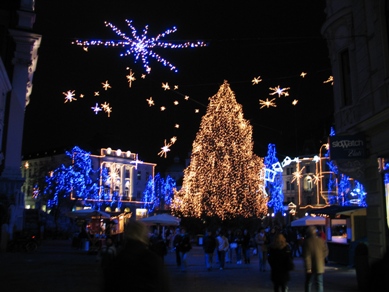 We could say Prešeren square is the main square in Ljubljana and is therefore the most decorated one. At weekend, different music groups have (free) concerts on Prešeren square. I continued my way across Tromostovje (Three bridges) ?
? and saw something new.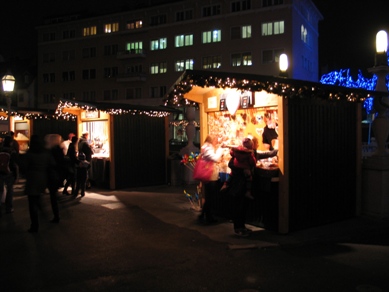 I can?t think of an appropriate translation, but I would say these are small wooden houses. In those houses merchants are selling everything you can imagine and even more. Then I went to see the city hall and I noticed a big Christmas tree in front of it.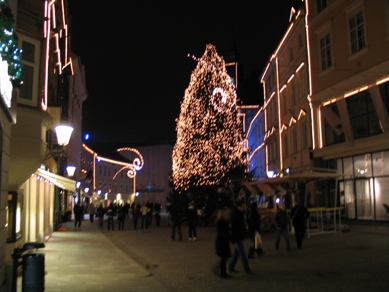 I finished my walk at one of the promenades along Ljubljanica. I noticed that Ljubljana castle changes color from red to blue and green.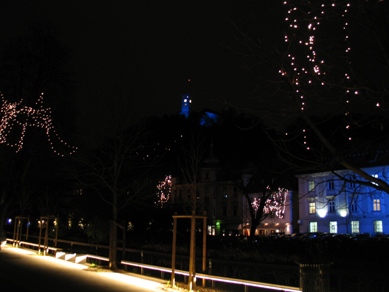 At many points on my way it was possible to buy hot tea, mulled wine (highly recommended), chestnut (be careful buying that because it might be old ? the main chestnut season is over), almonds, candies and many other things. If you don?t want to waste your money, I suggest buying only mulled wine ? Slovenia is wine-producing country and all wine offered in the streets is home made (and not some cheap Macedonian imported wine).
Posts from the same category: