The main, most important, we could say the only public transport in Ljubljana is Ljubljana?s city bus. Ljubljana doesn?t have tram or any similar type of transport. Of course there are trains, but they only drive to and from Ljubljana, not between different parts of the city.
You will get or probably find without problem maps with timetables and routes schemes. But, because the system has changed this year, you may have difficulties with paying the rides. Until September 2009, we were paying bus rides with cash or we had monthly tickets. In September, the system has changed ? bus ride can only be paid by special Urbana Card (it looks like credit card from the outside). So, your very first main concern, when you decide to use Ljubljana city bus is to get Urbana. It costs 2? (only the card, without any cash on it).
You can buy Urbana in the Tourist information Center (located in the center, near market hall), in one of many tobacco shops, at the Central bus station or even in some supermarkets.  It is possible to pay rides for more people at the same time with one Urbana, so if you are a group and you ride together you can only buy one Urbana.
When you buy Urbana, you also have to fill it and the best thing to do is that you fill it where you bought it to avod any further problems. You can also add credit using machines called Urbanomat. They are recognizable by their green color. You can put in from 1? to 50?. Every ride costs 0,80? and during 90 minutes, counting from the start of the ride you can change as many buses as you want. So, you loose 0,80?/person on your Urbana and you can use any bus you want for 90 minutes. The ride is charged when you enter the bus, not when you leave!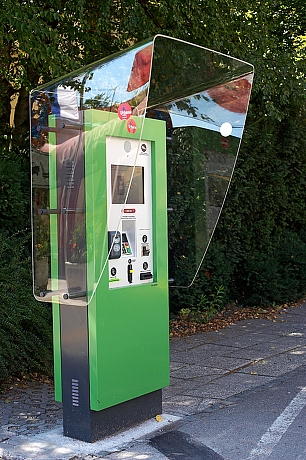 Urbanomat
When you enter the bus, simply touch the card to one of the green card readers (usually near the driver), everything else will be done automatically.
What about safety on the buses? Of course it is possible some pickpockets will find you, but it is rather unlikely. That of course doesn?t mean you don?t need to be careful, but you don?t have to panic about that either. Use normal travel wallets (those you can carry under t-shirt) and everything will be ok.
For those who will come in Ljubljana by car and don?t want to drive in the center, there is another option. You can park at ?Dolgi most P+R? parking (exit Ljubljana-West from the highway) and only pay 1? for whole day parking. You also get two tickets for bus, but they can be used only on bus number 6 or 6B, driving from Dolgi most through center in Črnuče.
Posts from the same category: