Bled is a village in north-western part of Slovenia. It is well known by the lake with the same name (Lake Bled). The lake is special because of a beautiful island on it. That is why many people say it?s like heaven ? beautiful lake with clean water all around you, you (possibly with people you love) driving on your boat, looking at an island with beautiful church and a cloudless sky above you if you are lucky.
The main tourist attraction is of course the lake. It?s up to 2 km long and 1,3 km wide. Maximum debt of lake is 36 m. In the summer time the lake temperature can reach 25 °C, so it is possible to swim in it. Even in autumn, lake temperature stays rather high, so it is usually possible to swim in Lake Bled until the end of September.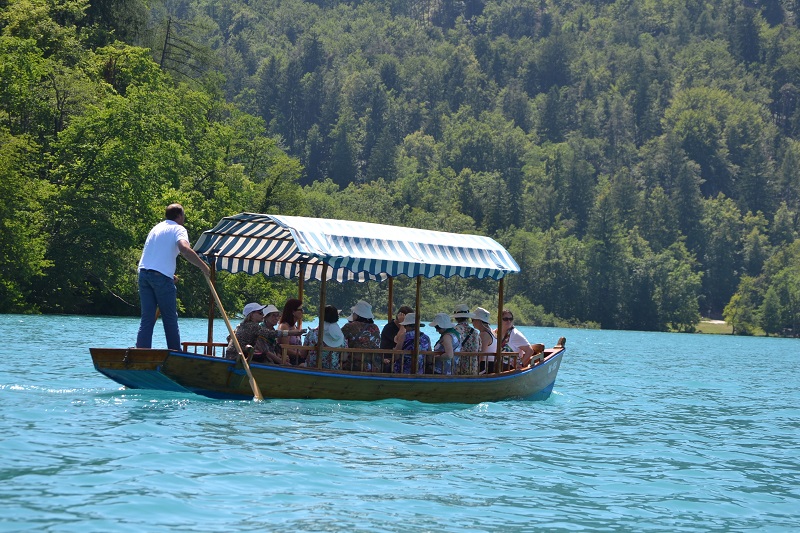 There are many options for you in Bled. The best and also the most romantic one is to rent a boat and paddle on the island (boats with petrol engines are forbidden). If you don?t want to paddle, several gondolas are carrying passengers on the island (they are cheaper than boat rentals, but you probably won?t be alone there). When you are on the island, I suggest a slow walk around the island ? it?s even possible to swim when you are on the island. Quick look in the church from 17th century is advisable as well.
Bled isn?t all about the island. I suggest visiting the Bled castle and those of you who like to walk might want to take a walk around the lake (approximately 2 hours easy walk). For golf enthusiasts is also taken care of. Moreover, Bled is famous for traditional Slovenian dessert ? the cr?me slice (locally called ?kremšnita?).
Over the whole year, Bled offers tourists and local people many festivals with different topics, such as music and movie festivals. Usually festivals start at the evening and last all night.
Accommodation in Bled is not a problem ? there are many hotels with different offers and prices. Some of them even have their own swimming pools (for those who don?t like to swim in lakes).
https://www.youtube.com/watch?v=mtvBNAndvB8
When you are in Bled, you might want to see another lake nearby. Lake Bohinj is only around 20 km away from Lake Bled. Lake Bohinj is the biggest permanent (we have one bigger lake but it doesn?t have water whole year) and natural lake in Slovenia. Lake Bohinj is a part of Triglav national park (TNP).
At the end I would like to warn you about prices in Bled. Because of many tourists and all the fancy glamour some services might be expensive ? for example meals in fancy restaurants can cost quite a bit, and high star hotels are also quite expensive. So, before you go anywhere, ask for the pricing list if you want your holidays to be budget friendly. Of course, boat rentals, museum tickets and other things fancy tourist aren?t interested in, have more budget friendly prices.
Posts from the same category: