Under the authority of Austria, Notranjska was part of Carniola, which extended from Ljubljana Basin to Kras and Istria. Borders of Notranjska are not simple to define at all. The best way to do this is probably to follow the borders of former municipalities, today administrative units. Notranjska consisted of municipalities Vrhnika, Logatec, Postojna and Ilirska Bistrica, while Idrija has always been specialty in administrative and language respect. It has been considered as a part of Severna Primorska, Notranjska and even Ljubljana. Also the municipality Ilirska Bistrica wants to become a part of the new coastal province, instead of Notranjska. Those municipalities are connected with common landscape characteristics, karst phenomena and transient territory.
If we arrive from Ljubljana, Notranjska begins in the Ljubljana?s suburbs. Past Ljubljana swamp on left and the Polhograjski Dolomites on right, we soon arrive to the birthplace of Slovenian writer, Ivan Cankar. We can also turn to former monastery of Carthusian monks in Bistra, which is now a technical museum of Slovenia. In direction towards Polhov Gradec, we should stop at the village Dvor, with mighty church of St. Peter from year 1577. Quickly developing ?double? Logatec boasts with majestic manor and strong timber industry. Soon, we have to take another turn, right towards Godovič and Idrija, or forward, towards Planina and onward to Cerknica in the plateau Bloke, Menešija and Rakitna.
Idrija has developed in the middle of nowhere, thanks to mercury, which was found there in year 1490 by some farmer. It gained municipal rights already in the beginning of 18th century. Even before, in 1575, the mercury mine became the property of Austria. It made nice profit for Austria, as it was also the second biggest mercury mine in the world, just behind Spanish Almaden. Mine?s administration was staying in an eminent castle Gewerkenegg, while the miners worked in unhealthy conditions under the Earth?s surface. They have developed many technical devices, which are today proudly exhibited in a museum.
Idrija was also attractive for many scientists, like botanist Janez Anton Scopoli, geologist and mineralogist Baltazar Hacquet, natural scientist Henrik Feyer and botanist Franc Hladnik. Beside technical schools, Idrija also founded the first gymnasium in Slovenia in 1903. Moreover, Idrija has church of the Holy Trinity and a town hall, which is also the birthplace of painter Nikolaj Pirnat. One of the attractions in Idrija are also ?klavži?, blockages, which were used to transport wood logs on water, and a water pump ?kamšt?, which was used to lift water from the mine. We could also mention the famous laceworks of Idria and several other interesting attractions.
The surroundings of Idrija are hilly, but still quite interesting. Divje jezero lake, which is the deepest karstic spring in Slovenia, is located six kilometers above Idrija. The village of Zakojca is the birthplace of the writer France Bevk, and in the gorge under the Vojsko plateau, there is a partisan hospital Franja. Cerkno, with successful factory Eti is also not far away from there.
If we leave highway Ljubljana ? Postojna at the exit Unec, we are already in the land of unusual karst phenomena: Rakov Škocjan and Cerknica with a periodic lake Cerkniško jezero. From Cerknica, one road leads to a remarkable hilly Menešija nad healthy Rakitna, and another road through picturesque Iški Vintgar back towards Ljubljana swamp. Other road leads on the Bloke plateau, the most desolated and wooded part of Notranjska. Past Križna jama we arrive in Lož and Stari trg, and then to the castle Snežnik, which is not far away from 1796 meters high Snežnik, also called ?Triglav of Notranjska?. Clear waters from hills of Snežnik turn towards Ilirska Bistrica, where they become polluted and continue to flow as a river Reka past the castle Perm and through remarkable caves Škocjanske jame, which were proclaimed as natural heritage by Unesco.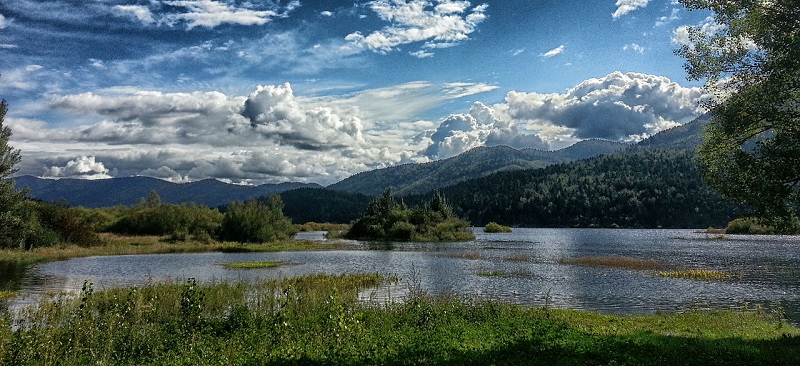 Even more famous than Škocjanske jame is world-known cave Postojnska jama near the largest city of Notranjska, Postojna (more than 20000 inhabitants). The cave is known for its stalactites, stalagmites, baldachins, curtains and especially for the animal proteus. The most famous attraction in the surroundings of Postojnska jama is the castle Predjamski grad. Postojna also has an institution for the Karst researches of SAZU, founded in 1947, which is now becoming world famous Mecca of the Karst researches. Southern of Postojna, there is Pivka, which is an important railway crossing, with connections to Rijeka and Trieste. In the direction of Trieste, we meet a polluted Reka again in the valley Vremska dolina, and then we arrive to Divača, Sežana and Trieste.
Related articles
Posts from the same category: