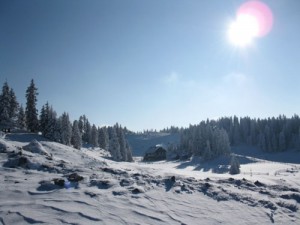 Pohorje definitely is the largest recreational center in Slovenia. Alpine hills can compete with Pohorje in size itself, but Pohorje is more attractive for many guests, due to its lower altitude (up to around 1600 meters above sea level) and less difficult paths, and besides that, it has more developed touristic offer. Three big sports recreational centers with more and more visitors each year are located in Pohorje. These are Rogla, Mariborsko Pohorje and Kope. Everywhere you can stay in hotels or touristic farms. In winter you can enjoy skiing, snowboarding and sledding, and you also have plenty of possibilities for active vacation when there?s no snow.
Pohorje is divided into several areas, like Zreško Pohorje, Mariborsko Pohorje, Hočko Pohorje and so on. These areas are differently developed, which is consequence of different connections with good economical cities nearby in the past. That?s why the most developed touristic centers are in Mariborsko Pohorje from the hotel Habakuk at the foothill, across Bolfenk to Areh and in the surroundings of Slovenske Konjice across Zreče with thermal spa resort and up to Rogla, which has many ski slopes, cross country ski tracks and winter-summer sports center with fields for different sports.
Accommodation in touristic farms on Pohorje and its surroundings is getting more popular each year. The number of touristic farms is increasing, as well as their equipment is getting better. Guests can enjoy delicious traditional cuisine and rich wine offer. Especially different sorts of white wines are produced in this region. Some owners of these farms let you help them with their everyday work, for example taking care of domestic animals like horses, cows and goats. You can also help with other farm work, for example wine growing and fruit growing tasks and hay gathering. Of course you can also just enjoy deserved free time and go for a bike ride, explore different footpaths, go boating, horseback riding or go to take some photos of the unspoiled nature.
There are many natural attractions in Pohorje, for example lakes like Črno jezero, Lovrenška jezera and Skalce waterfall, especially interesting are waterfalls veliki and mali Šumnik in the middle of unspoiled nature, in Pohorje jungle.
Pohorje is worth visiting in every part of the year, of course it is the most magic in nice weather. Spend some days in clean nature, full of possibilities for different adventures, take advantage of sports infrastructure, relax and enjoy your perfect vacation.
Posts from the same category: